SUISOHOLIC ROUND TYPE
SUISOHOLIC ROUND TYPE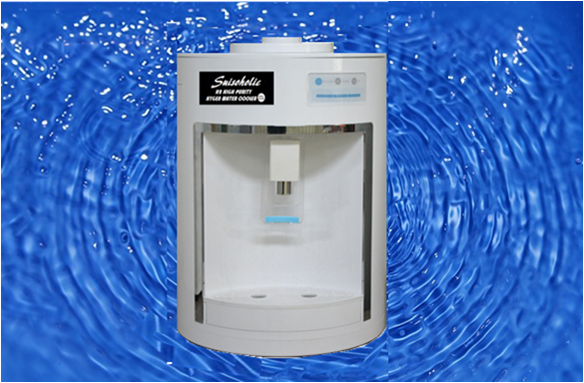 HYGEN
H2 WATER COOLER
(SUISOHOLIC ROUND TYPE)
It is a hydrogen water cooler (SUISOHOLIC) shaped in a round type.
The product generates 99.999% of hydrogen gas from water produced by its body (water cooler).
SUISOHOLIC ROUND TYPE offers the same functions as the SUISOHOLIC except it keeps the water temperature to room temperature or tepidity.
Suisoholic round type produces high purity hydrogen water by pressurization and dissolving of hydrogen gas. The product is able to dissolve maximum 4 ppm of hydrogen gas.
Additionally, hydrogen concentration level can be adjusted with H2 concentration control button. The button is placed on the front panel, and user can adjust H2 concentration as desired.
Suisoholic round type only electrolyzes water from its water cooler to produce hydrogen. Therefore, it guarantees the safety.

*Concentration of hydrogen is measured by hydrogen concentration reagents.
HYGEN H2 WATER COOLER (SUISOHOLIC ROUND TYPE)

| NAME | SUISOHOLIC ROUND TYPE |
| --- | --- |
| MODEL | HG-201S |
| FILTER | CARBON (ACTIVATED CARBON) FILTER |
| H2 CONCENTRATION | 3~4ppm(±0.2) |
| DIMENSION | B250 x T240 x H350 |
| WEIGHT | 8kg |
| POWER | AC 100V, 220V, 50/60Hz |
| WATER TEMPERATURE | 4~10℃ |
| STERILIZATION | UV LAMP |
| TANK CAPACITY | 2L |
| TIMER | 15min ON, 45min STOP |